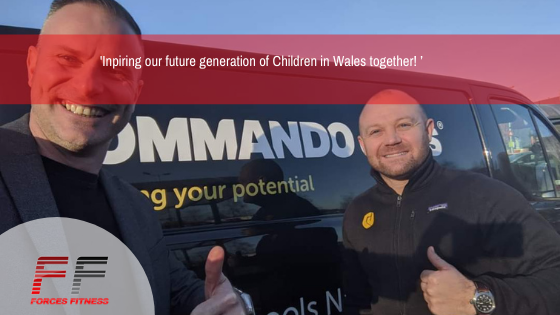 Our team at Forces Fitness are extremely excited and proud to partner with Commando Joes (CJ's) to deliver their Character Education program in Wales!  Collaboration and team work are both key messages we like to cement on our sessions in schools and its great when Organisations come together to do exactly that! We are heading towards one clear vision of  'Inspiring our future generation and ensuring no Child is left behind!'
CJ's are the UK's Industry Leaders in Character Education within Schools and we now have the operating capability to deliver this amazing service alongside our already established Health, well-being and building resilience programs that operate in multiple schools, colleges and Universities across Wales.
Forces Fitness is a multi-award winning company that provide many education and training programs with a large focus on Health, wellbeing and building resilience for learners. Our team of qualified Teachers and Instructors have delivered sessions to over 130 paces of education in Wales and to over 15,000 learners.  Our Company has been operating since 2008 and has gained a reputation for being the lead organisation in Wales to operate within schools to improve pupils' health and wellbeing.
All the Forces Fitness team have a passion for Health and Wellbeing and improving our learners' lifestyles! The main core of our  programs helps our attendees understand how to maintain a health body and health mind whilst building resilience. The team firmly believe that Positivity Breeds Positivity  and they are here to inspire our future generation.
"Our Team at Forces Fitness are extremely excited to be working with Mike and his CJ's team, Forces Fitness has cemented itself as one of the lead organisations in Wales with regards to delivering health, well being and building resilience programs in Schools over recent years and the addition of adding the CJ's character program to our extensive services will only benefit our learners"
Mike  and his team echo the same core values as our Forces Fitness team and we are Very excited to be working with Commando Joes, collaboration and working together towards a shared vision are both core elements of our program and we cant wait to do this with CJ's.  We are here to inspire our future generation that they can achieve great things!
Sean Molino BCA 
" CJ's have employed over 150 veterans in the last 11 years of supporting schools across the UK. One of our challenges is finding veterans with the right aptitude to nurture and teach children resilience in the restorative "CJ way"
"When I met Sean, his positive and professional outlook really resonated with me, we choose our partners extremely wisely, this ensures quality delivery and I think that Sean and his team will be able to deliver the Character Programme fantastically well across Wales."
"Being a veteran and ex Physical Training Instructor, Sean can adapt with a soft approach that schools love. We cant wait to start supporting more schools across Wales!
Mike Hamilton OBE
For more info on this amazing Character Education Program please Click Here
For more info on our Schools and College Health, Well-being and Building resilience program please
Click Here
https://www.forcesfitness.co.uk/wp-content/uploads/2021/03/Copy-of-Forcess-Fitness-Blog-Graphic-1-1.png
315
560
Sean Molino
https://www.forcesfitness.co.uk/wp-content/uploads/2021/01/ff_logo_trans.png
Sean Molino
2021-03-04 14:59:09
2021-03-04 15:57:56
Forces Fitness Partner with Commando Joes!